Meerkat pups debut at Kirkcudbright wildlife park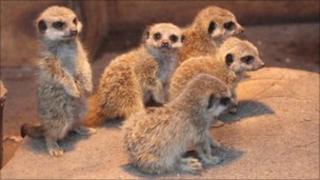 Five meerkat pups have made their debut appearance at a wildlife park in Kirkcudbright, about three weeks after they were born.
The pups were born underground and only opened their eyes when they were two weeks old.
Their appearance at Galloway Wildlife Conservation Park is their first visit outside their underground burrow.
Conservation manager John Denerley said: "The five pups at only 10cm tall are still being nursed by mum,"
"[They] have started to eat mealworms, fruit and one even tried a locust but seemed to have more fun carrying it around."
Diurnal creatures
Meerkats are active during the day and forage together as a mob in the morning and evening, shading under bushes or underground during the hottest part of the day.
They typically live in social groups of between three and 50 with a clearly dominant breeding pair.
Last year, a pair of meerkat babies became the first pups to be born at the conservation park for four years.