Smailholm Tower turf roof works begin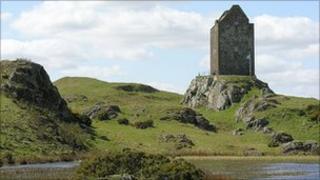 Work has started to give a 15th century landmark in the Borders a special turf roof in a bid to keep it watertight.
Smailholm Tower, between St Boswells and Kelso, has suffered damage to its upper floor with rain leaking through its stone flag roof.
Following trials, a "living roof" solution is now set to be tried.
Historic Scotland said a layer of clay would first be applied and then sedum and grass seeds planted to give the roof a complete covering of grass.
District Architect Peter Ranson said: "Over recent years, heavy rainfall has caused water to get into the roof of the tower.
"This is a problem because of the effect on the tower's timber structural elements and the potential damage to the exhibition of dolls and tapestries which were inspired by Sir Walter Scott's writing."
He said the new system chosen was "fully reversible".
It is hoped it can considerably reduce the amount of water getting into the building.
Mr Ranson said there was a historic precedent for the action.
He said: "We have also seen old photographs which show that a thin covering of vegetation once grew naturally on the masonry top of the tower."
Smailholm Tower dates back to the 1400s and was built by the Pringle family.
It was crowned a five-star visitor attraction four years ago.
More recently, water damage has caused sandstone erosion and damage to timber flooring in the building.
It is hoped the turf roof proposal could help to halt that problem.