Dumfries Prison report calls for sex offender strategy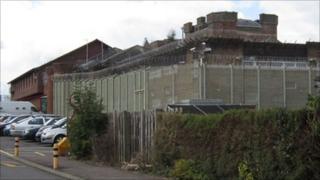 Inspectors have said a jail in Dumfries has become the "prison of choice" for long-term sex offenders and called for a national strategy to deal with them.
The report follows a visit to the south of Scotland site in April.
HM Chief Inspector of Prisons Brig Hugh Monro praised the "well-run" jail and its "dedicated and experienced staff".
However, he warned that sex offenders who did not take part in rehabilitation programmes risked getting stuck in a "penal cul-de-sac" at Dumfries Prison.
The chief inspector's full inspection was carried out in April.
It concluded that the prison operated well "despite the significant challenges presented by both its infrastructure and the complexity of its prisoner mix".
Among the main findings were:
the prison is well run with dedicated and experienced staff;
risk management is delivered to a very high standard and healthcare provision is good;
sex offenders assessed as requiring intensive rehabilitation programmes are not receiving them;
progression to open conditions is difficult for most long-term sex offenders;
the fabric of the prison is poor with the lack of investment clearly evident;
prisoners have limited access to meaningful out of cell activities; and
the uncertain future of the prison presents ongoing anxiety for staff.
Brig Monro said everyone working on the site was "delivering to a high standard".
However, he said it was a difficult prison to manage with its "outdated infrastructure" and "highly complex mix of prisoners".
Brig Monro said: "I am concerned that Dumfries has become the 'prison of choice' for those long-term sex offenders who have been moved from HMP Peterhead for refusing to admit their guilt and, as a result, do not engage in rehabilitation programmes.
"I believe this lack of intervention combined with their limited testing in less secure conditions poses a significant risk upon their eventual release.
"Having seen these stark issues at Dumfries, I repeat again my recommendation that a comprehensive strategy for dealing with short and long-term sex offenders in Scotland's prisons must now be seen as a priority."