South of Scotland STV suggestion divides MSP opinion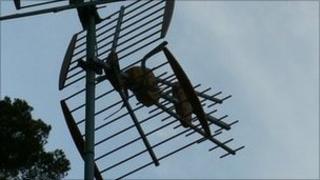 A suggestion that STV could replace the former Border TV in the south of Scotland has provoked a fierce debate amongst local politicians.
The SNP's Christine Grahame has said this would be good for viewers but Liberal Democrat Jim Hume has expressed concern.
The idea is mentioned in a discussion document prepared for the UK government by the communications watchdog Ofcom on what could happen when the current Channel 3 licences run out in 2014.
Ofcom is stressing no decisions are close and that any move to give the south of Scotland to STV would only happen if ITVplc, which owns the former Border TV, gave its consent.
The communications regulator is looking at options on how to renew or modernise the licences held by the companies on the Channel 3 network and Channel 5.
It has prepared a detailed document for the UK government on various options for renewing the licences and their pros and cons.
Within the document it mentions the idea, which had previously been floated, of creating four main licences for Channel 3 broadcasters - one for each nation. This could, in practice, see STV replacing Border in the south.
Some local politicians have expressed concern about Border's local news coverage since the region was effectively merged with the former Tyne Tees area two years ago when a number of ITV regions were scaled back. Some regional news programmes cover an area stretching from North Yorkshire to Selkirk.
Liberal Democrat MSP Jim Hume signalled that he would resist any move to extend STV's territory southwards.
He said: "Broadcast news provision in the region over the last few years has undergone substantial changes.
He added: "It's critical that regional and local variation is maintained within future news provision and this can be best achieved through Border TV."
However, the SNP's Christine Grahame, a long-standing critic of ITV coverage in the area, welcomed the possibility.
She said: "Viewers don't get STV news and instead get news that is largely from the north of England.
"They don't get football matches and they don't get the same coverage of Scottish politics.
"The recent leaders' debates, for example, were not shown until midnight.
"In this crucial and exciting period of Scottish constitutional history it is essential for those living in the Borders and across the south of Scotland to be afforded proper coverage of issues surrounding a referendum on Scottish independence and the progress of Scotland as a nation."
The Culture Secretary Jeremy Hunt must make a decision about whether to renew or block renewal of the Channel 3 licences by June 2013.
'Possible option'
If a process to renew the Channel 3 licences goes ahead, decisions on what sort of regional licences to offer would be made by Ofcom - not the government.
Ofcom is stressing that any decision to create a Scottish national licence, including the south of Scotland, could only happen with the consent of ITVplc, which owns the former Border Television.
A spokesman said: "Ofcom raised the possibility of a single Scottish licence nearly three years ago - our new report does nothing more than reiterate that it is one possible option.
"But to suggest TV viewers in southern Scotland will receive STV instead of Border Television is to second guess the outcome of a number of regulatory decisions about the future of public service broadcasting that will be taken over the next two years."
ITV has, so far, made no comment on the reports.