Selkirk tartan gift to New Zealand earthquake village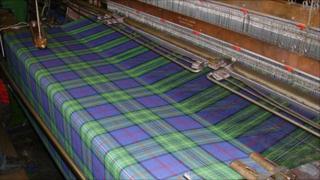 A special Scottish tartan is to be given to a New Zealand village to raise funds for rebuilding efforts following an earthquake earlier this year.
Residents of Hororata - about 35 miles west of Christchurch - are planning their own Highland Gathering.
They contacted the Scottish Tartans Authority to register a pattern but were offered further assistance.
Selkirk-based Robin Elliot, of Andrew Elliot Ltd, will weave the tartan which will then be flown out to New Zealand.
The village community decided to use its Scottish connections to stage a fundraising event on 5 November.
After hearing the extent of the destruction they had suffered in February, Brian Wilton, director of the STA, felt the Scottish textiles industry could provide more help than just registering a tartan.
He offered to design one especially for Hororata and get it woven in Scotland before giving it to the community.
All proceeds of its sale will be used to help rebuild the village.
Four different designs were sent to the people of Hororata for a public vote on a final selection.
Their choice is due to come off the loom in the Borders this weekend before making its journey to New Zealand.
The Hororata tartan incorporates specially selected colours to represent the area including the red of the native Rata tree after which the village was named and yellow and black to symbolise the local sports teams and school.
David Breckenridge, who chairs the industry group Textiles Scotland, said: "The Hororata tartan is another example of how the Scottish textiles industry is able to use enviable skills and work together to help others.
"The fact that this latest registered tartan will help one of the areas most affected by the earthquake in New Zealand to rebuild is commendable."
Mr Wilton said he had been happy to help the people of Hororata to "rebuild their community and create a brighter future using the skills at our disposal here in Scotland".
"This tartan was inspired by the people with whom we have worked closely over the past three months to design something which will become a part of their community going forward," he said.
'Special gift'
He said the production of the tartan was "testament to the goodwill of the Scottish textiles community".
Mr Elliot added: "We jumped at the chance of being a part of this unique gift to the people of Hororata.
"They have been through so much so it is a pleasure for us to help deliver this special gift of tartan to the people.
"We hope that the tartan is well received at the Highland Gathering and boosts the earthquake appeal.
"The thoughts and best wishes of Scotland travel with the tartan."