Hawick ambulance cardiac call delay inquiry sought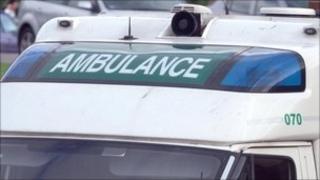 A fatal accident inquiry is being sought after an ambulance was delayed because of a telephone fault.
It happened after a man collapsed in a Homebase store in Hawick on Tuesday.
The Scottish Ambulance Service said there was a delay of up to five minutes in connecting the 999 call because of a BT fault.
Both BT and the ambulance service have launched internal investigations. Labour's shadow health secretary Jackie Baillie has called for an inquiry.
She said: "Here we have a system that deals with emergency situations failing time after time.
"Now we have evidence that as a consequence of an error in the phone system, there has been at least one fatality and I would urge the cabinet secretary to hold a fatal accident inquiry to find out exactly what went on."
Health Secretary Nicola Sturgeon said she had been made aware of a "technical issue" at the Edinburgh and Inverness dispatch centres.
She added: "I would like to offer my condolences to the patient's family and give an assurance that I will be keeping a very close eye on the urgent review the ambulance service will be conducting of this case."
John Lamont, the Conservative MSP for the area, gave his backing to the call for an inquiry.
He said: "I think a Fatal Accident Inquiry should certainly be considered in order to provide a full and comprehensive investigation of the issues involved so that another life is not lost."
The SAS confirmed it was investigating the situation.
A spokesman said: "At 09:45 on 6 September the Emergency Medical Dispatch Centres in Edinburgh and Inverness experienced technical difficulties to the 999 telephone system and immediately switched to the contingency back-up system so that all calls continued to be dealt with quickly by the centres.
"The technical fault was rectified by 12:30.
"A review is ongoing to identify the specific cause of the problem."
He said the response to the cardiac patient in Hawick had taken 12 minutes from receipt of the call but there had been a five-minute delay in BT transferring the call.
He added: "A nurse on scene provided early CPR, which was continued by ambulance crews, but unfortunately the patient did not survive.
"We are conducting a review of this case and have asked BT to investigate why there was a delay in the initial transfer of the call."
A BT spokesman said it was "very concerned and saddened" to learn about the incident.
"A detailed investigation is under way to establish the full facts," he added.
"BT answered the call at 10:20:44, an ambulance was requested and the call was connected at 10:24:37 to the Scottish Ambulance Service.
"BT answers about 80,000 emergency calls from fixed and mobile phones each day, answering more than 95% within five seconds."