Jeremy Hunt questioned on south of Scotland TV omission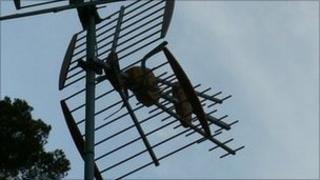 The UK Culture Secretary Jeremy Hunt has been asked why plans for local TV have omitted Dumfries and Galloway and the Scottish Borders.
Last month he announced 65 locations in the running for their own televisions services, including nine in Scotland.
SNP MSP Christine Grahame asked him about the absence of sites in southern Scotland during a visit to Glasgow.
Mr Hunt said if the SNP matched UK government broadband funding then the area could have local TV.
The exchange came during a summit in Glasgow with media professionals and politicians.
Mr Hunt told them that local television could be a "glue that holds the community together" as he discussed plans for new channels.
He said that there was "palpable enthusiasm" for the idea the further you got from London.
Mr Hunt last month earmarked 65 towns and cities as possible locations for the new services, nine of them in Scotland.
The Scottish locations on the list are Aberdeen, Ayr, Dundee, Edinburgh, Elgin, Falkirk, Glasgow, Greenock and Inverness.
Ms Grahame, who represents Midlothian South, Tweeddale and Lauderdale, asked him why her area had been left out.
She said: "The south of Scotland is one of the worst places in Scotland for local TV.
"I would ask the culture secretary to look again at the technological criteria and consider putting Dumfries and Galloway on the list."
Mr Hunt replied: "We want to have local TV for everyone.
"Ask your government to match the broadband funding that the UK government has put on the table and then every one of your constituents can have local TV."