Galashiels intoxicated teenager 'lucky to live'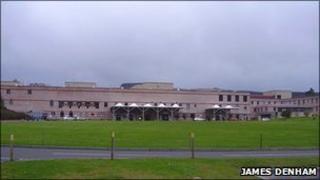 A 14-year-old boy who drank a bottle of Jack Daniel's whiskey bought for him by a 40-year-old man was lucky to live, a court has been told.
The youngster was found in a park in Galashiels and taken for treatment.
It was described as "one of the most serious cases of child intoxication seen by doctors" at the hospital.
Reuben Henry, of the town's St Andrew Street, admitted endangering the boy's life by supplying him the whiskey. Sentence was deferred.
Selkirk Sheriff Court heard how the teenager had given Henry the money to buy the alcohol in a supermarket.
After drinking it, he was found lying intoxicated in a public park and was taken to Borders General Hospital where tests revealed he had a blood alcohol reading of almost four-times the legal drink-drive limit.
Procurator fiscal Morag McLintock said: "There was grave concern for the boy's welfare.
"In the end he was incredibly lucky."
Henry pled guilty to culpable and reckless conduct by supplying the Jack Daniel's whiskey to the boy.
Sheriff Kevin Drummond said: "The responsible community is trying to do something about this.
"It is not killjoy stuff.
"There does not seem to be an understanding that young people can die from this kind of incident."
He told Henry he could have found himself sitting in the dock at the High Court.
Henry also admitted two further charges of supplying another 14-year-old and a 17-year-old with alcohol in July and August.
Sentence was deferred until 17 October for background reports.
His bail was continued with special conditions that he should not enter Tesco or Asda in Galashiels or have unsupervised contact with people under the age of 18.