Gatehouse-of-Fleet housing scheme rejection upheld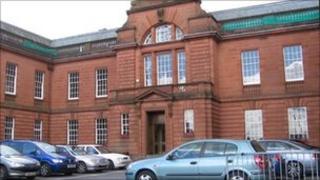 An attempt to overturn a council's refusal of a proposed housing scheme in Gatehouse-of-Fleet has been thrown out by a Scottish government reporter.
However, the Dumfries and Galloway authority has been ordered to meet some of the developer's expenses in respect of flood risk concerns.
Southvale Homes wanted to build 20 properties at the Woodside Garage site.
A reporter said the homes would harm the "character and appearance" of the area and upheld the council decision.
The scheme was rejected by councillors in March this year over concerns that it was out of keeping with the area and also that it included insufficient measures to deal with the potential flood risk.
The developers appealed against that decision.
A reporter to Scottish ministers has now upheld the authority's verdict because of the project's impact on a conservation area.
However, he also said that there was no indication that the flood risk in the area would have been increased by the plans.
On those grounds he awarded partial expenses to the developers.
He said the council had failed to show it had "reasonable planning grounds" to cite flood concerns among its reasons for refusal.
The level of expenses will be agreed between the authority and developers.