Scotland's birds of prey 'face decline' over poisoning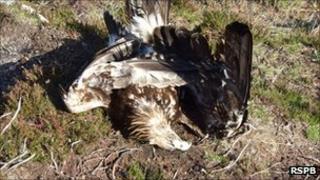 Scotland's rarest birds of prey risk decline because of deliberate poisoning, the RSPB has warned.
RSPB Scotland said 29 birds had been confirmed as illegally poisoned in 2010, but warned the number could be the "tip of the iceberg".
Most incidents took place in areas managed for driven grouse shooting.
Official tests revealed 13 buzzards, seven red kites, four golden eagles, two peregrines and one white-tailed sea eagle were deliberately poisoned.
A further eight birds of prey were also confirmed as victims of shooting, trapping or nest destruction.
They were concentrated in the eastern and central Highlands and the Southern Uplands of Scotland.
RSPB Scotland said continued illegal poisoning could lead to the decline of slow breeding raptor populations.
The charity said there had been an increase in the confirmed use of highly toxic banned agricultural pesticides, such as Aldicarb and Carbofuran.
As many of the birds were discovered by chance by walkers or bird-watchers, the figures could represent "the tip of the iceberg", the RSPB claimed.
Stuart Housden, director of RSPB Scotland said: "The criminal practice of illegally killing birds of prey remains a most serious conservation issue.
''Following welcome new measures to tackle this crime, we are working hard with the authorities and responsible land managers to see how we can use both intelligence and scientific information to better target enforcement against the perpetrators.
''We look forward to this yielding the visible results of an increase in the population and range of vulnerable species such as hen harrier, red kite, golden eagle and white-tailed eagle."
'Sustained approach'
Douglas McAdam, chief executive of Scottish Land and Estates, which represents about 2,500 landowners in Scotland, said: "The illegal poisoning of any birds is to be condemned outright.
"Landowners are working hard in partnership with police and other organisations to help eradicate this.
"This requires a sustained approach over time and there is evidence these joint efforts are beginning to pay off.
"There has been a significant decrease in illegal poisoning incidents in the first half of this year at a time when some species are increasing rapidly and now number tens of thousands, the highest overall for nearly a hundred years.
He added: "It is regrettable that RSPB, who are part of that collaborative effort, continue to point fingers at a time when real progress is being made."
Many more birds were killed accidentally by agricultural rodenticides than by deliberate poisoning, he said.