Halyrude Primary in Peebles upgrade officially opened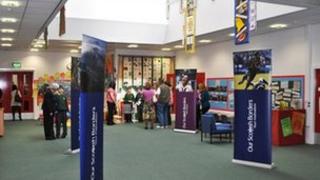 A £2.1m upgrade of a Borders primary school has been officially opened.
The former Kingsland Primary School in Peebles has been converted to accommodate Halyrude RC Primary, which was moved from another site.
Councillor George Turnbull carried out the opening ceremony which was also attended by Cardinal Keith O'Brien.
Mr Turnbull said the work had delivered a "special school" which he was sure would be "enjoyed by many children for many years to come".
Interim head teacher Kate Brown said: "All of our children are very excited about their new school.
"They particularly enjoy the space they have to embrace fully all the learning activities offered through a Curriculum for Excellence.
"The school is a bright, vibrant and flexible environment and an excellent resource for our entire school community."