Galloway TA training exercise for Afghanistan under way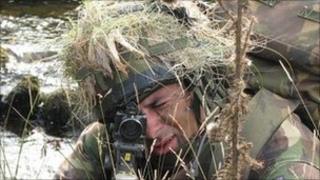 A major training exercise to prepare Scottish reservists for action in Afghanistan is under way in Galloway.
Exercise Scottish Buzzard is the first of its kind since a report recommending the Territorial Army takes on a bigger role in frontline operations.
It will involve 600 reservists from 51 Scottish Brigade simulating the close combat they will face in Afghanistan.
Brigadier George Loader said it was important TA soldiers were trained to the same standard as the regular army.
"They train individually and then join the units and formations that they are to deploy with and do exactly the same training," he said.
"The trick for the TA soldier is, of course, getting that training in over a longer period of time, so it takes longer to train the individual to get them to the same sort of standard.
"But we are able to do that, we have the resources to do that, it just takes longer to get them to the same basic standard."