Arctic adventurer Jock Wishart 'lucky' to reach pole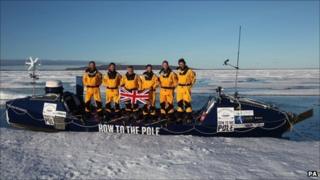 Arctic adventurer Jock Wishart has said his rowing crew was "lucky" to complete its journey to the 1996 location of the magnetic North Pole last month.
The Dumfries-born explorer made history when he and his five-man team became the first oarsmen to reach the pole.
They took just under four weeks to complete the 450-mile route in their specially-designed vessel.
Mr Wishart said they were fortunate everything had fallen into place to make the journey possible.
"It is only now I have come to realise just how lucky we were to have the right conditions this year to complete this attempt," he said.
"I always felt it was hypothetically possible, but having made the voyage, it's clear we were pushing on the limits of what was possible - even allowing for the huge changes attributed to climate change."
Mr Wishart organised the Old Pulteney Row To The Pole to highlight the effects of climate change on the ice in the region.
The group set out from Resolute Bay in Canada on 29 July in their specially-designed boat-cum-sledge which had runners on its underside so that it could be hauled over the ice.
They reached their goal on 26 August.
'Huge accomplishment'
As well as Mr Wishart the team included round-the-world cyclist Mark Beaumont, from Perthshire, Cornwall-born Billy Gammon, Rob Sleep and David Mans from Hampshire, and Londoner Mark Delstanche.
Environment minister Stewart Stevenson met Mr Wishart to congratulate him on his "fantastic personal achievement".
"My congratulations go to all involved with this huge accomplishment and who helped the team to become the first to row to the 1996 magnetic North Pole," he said.
"This world-first adventure aimed to raise awareness of climate change and melting sea ice in the Arctic.
"While this is a time of great celebration for this amazing feat, we must remember that expeditions like this bring back concrete, tangible evidence that climate change is real and is happening.
"This government is committed to doing what we can to change behaviours to stop the disastrous effects of climate change before it's too late."