Innerleithen goshawk chicks shot in nest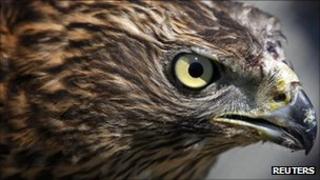 An appeal for information has been made after goshawk chicks were found shot dead in their nest in the Borders.
The find was made in woods near Innerleithen by wildlife police officers earlier this month.
It appears that whoever attacked the nest climbed up and then blasted it with a shotgun making it impossible to identify how many chicks were inside.
Anyone with any information has been urged to contact Lothian and Borders Police immediately.
Goshawks became extinct as a breeding species in Britain at the end of the 1800s.
The current breeding population is increasing in the UK and originates from birds that escaped captivity or were deliberately released.
Recent forest management has also helped the species to survive.
However, despite the population increase, there are believed to be only a few hundred pairs of nesting goshawks in the UK.
The latest incident in the Borders follows several bird poisonings in the area.
It is the first time a nest in the Tweed Valley has been deliberately shot and police said they were treating the case very seriously.