Dumfries and Galloway teachers raise education cut fear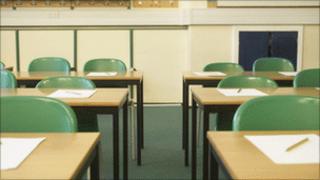 A teachers' representative has raised serious concerns about plans which could see £3.5m cut from education spending in south west Scotland.
Timothy Birrell, who sits on Dumfries and Galloway Council's education committee, said previous spending reductions had already proved damaging.
The authority is currently examining further cost-cutting measures.
Sandra McDowall, who chairs the committee, said there was some way to go before final decisions were made.
The potential savings target has been outlined as part of a second round of council spending cuts.
A similar amount was taken from schools' funding this year, which included reductions in teaching posts.
Mr Birrell, who represents secondary teachers, said the issue was of great concern.
"It has been increasingly a struggle within schools with a reduced staffing ratio and a decline in the amount of financial resources available to schools," he said.
"It makes it constantly harder to serve the needs of individual children and maintain the standard of education.
"Naturally we are concerned about that and obviously, as staff, we are concerned about any possible further reduction in jobs as well."
'Difficult decisions'
He said a proposed reduction in management time for primary head teachers was of particular concern.
"There seems to be no end in sight at the moment and it's an increasing concern to us every year," he added.
Ms McDowall said she appreciated the fears being raised.
"Last year was really difficult and this year we are tasked with finding, at the moment, about £3.5m, and that won't be easy," she said.
"Difficult decisions will have to be made, but we are at a very early stage."
She said that in December a clearer picture would emerge of where cuts might have to be made.
"By then we will know exactly what the settlement from Scottish government is," she added.