Borders renal unit appeal achieves goal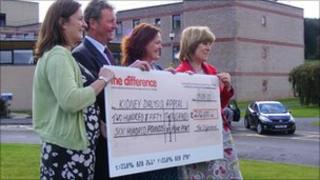 The curtain has come down on an appeal for funding for an enhanced kidney dialysis unit at Borders General Hospital.
It follows the ceremonial handover of a cheque for £250,600 by The Difference, a group set up to raise funds.
The new facility has been in operation since the end of June and has the capacity to cater for 54 patients.
That means that 18 Borderers who previously had to travel to Edinburgh can now be dealt with nearer home.
Dr Wendy Metcalfe, a consultant nephrologist at BGH, said the expanded unit offered state-of-the-art facilities and enabled patients to receive their treatment in greater comfort and privacy.
There are also, for the first time, dedicated staff facilities.
The Difference appeal was led by James Marjoribanks, himself a former renal dialysis patient.
He has praised the generosity of Borderers in helping gather the funds.
The appeal was originally aimed at raising £120,000 to fund extra equipment and enhancements to facilities for patients.
However, more than twice that amount was successfully raised.