Scottish Borders tree hugging week to aid forest funds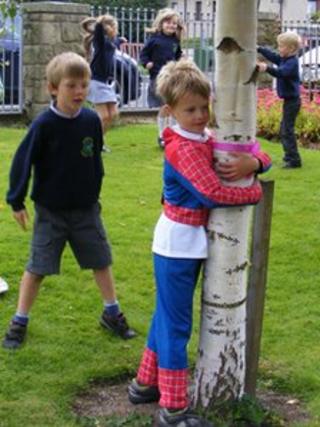 Clint Eastwood famously sang of talking to the trees.
This week Borderers are being urged not to engage in conversation, but put their arms round them instead.
It's Tree Hugging Week aimed at raising funds for the Borders Forest Trust.
The organisation is celebrating its 15th anniversary and oversees a number of community woodland schemes across the region as well as a major woodland restoration project at Carrifran in the Moffat Hills.
Purchase of the site was completed in 2000.
Since then over 500,000 native trees, all from local stock, have been planted in the valley.
The trust hopes the Carrifran Wildwood will be an inspiration and educational resource over the next millennium.
Overall the trust has planted 1.5m trees over its 15-year history.
Louisa Finch of the Borders Forest Trust says local schools, youth groups and other organisations have already signed up to seek sponsorship for Tree Hugging Week.
And, she believes, increasing numbers of people are becoming aware of the benefits of woodland areas as places for recreation and relaxation as well as havens for wildlife of all kinds.
Amongst those who have already undertaken their tree hugging are pupils at Morebattle Primary School near Kelso.
Grace was enthusiastic about the event.
"Trees are important because they give us oxygen," she said.
Jack said his favourite tree was the alder while Katie said grown-ups would find hugging a tree just as enjoyable as she did.
More details about Tree Hugging Week and the work of Borders Forest Trust are available on their website.