Ancrum quarry vulture project abandoned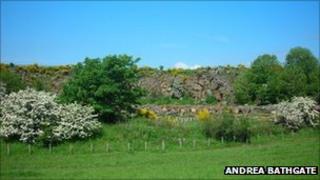 Plans to turn a disused Scottish Borders quarry into one of Europe's largest aviaries to save endangered vultures have been abandoned.
The £1.5m Eagle Gardens scheme would have been built on a site near Ancrum.
The project was unveiled in 2009 and had a £637,000 Scottish Rural Development Programme grant in place.
However, financial difficulties forced a delay to the plans earlier this year and it has now been confirmed that they will no longer proceed.
The project would have seen a bird of prey visitor and conservation centre built on the 35-acre site.
The proposals also included a "free-flight" aviary which would have allowed 50 vultures to nest in the rock walls of the near circular quarry.
It was reckoned the area would have had space for 250 eagles, owls and other birds of prey in 100 enclosures.
The centrepiece would have been the vulture aviary.
Director Dr Mike Eccles informed Scottish Borders Council via email that the project would not proceed "due to lack of sufficient funding".