Dumfries and Galloway police cameras guard bird nests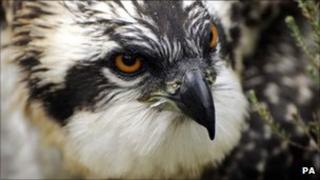 Advanced wildlife protection equipment is being deployed by Dumfries and Galloway Constabulary in a bid to safeguard birds of prey.
The force is thought to be one of the first in Scotland to secure funding to install cameras at nesting sites.
The footage can then be monitored from the police control room for any criminal activity.
Wildlife officer, Pc Jim Drysdale, said it could help keep a check on "fairly remote" parts of the region.
"We have set up very covert cameras which are very small and hard to see and they cover the nest site," he said.
"Also, within the nest site, they are ringed by alarm systems.
"We have had problems in the past where alarms would go off and you would have to physically go and check.
"Now when the alarm system goes off we just monitor a screen and see if anything has happened."
If there is evidence of any illegal activity, police officers can be sent to the scene.
However, Pc Drysdale said that, as well as catching criminals, the cameras could act as a significant deterrent.
"It is not all about out detection, it's about prevention," he said.
"If this system prevents people coming into Dumfries and Galloway and stealing nests, eggs, chicks or whatever, that is just as good to us."