Dumfries launch for national youth offender strategy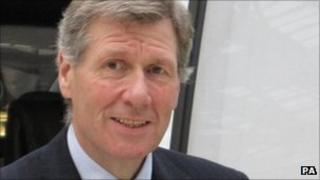 A new national strategy to tackle youth offending has been formally launched at a conference in Dumfries.
The programme will see minor offenders under the age of 18 offered support to tackle their behaviour as an alternative to prosecution.
The Whole Systems Approach (WSA) involves police, prosecutors, social workers and a large number of other support services.
It was launched by Scottish Justice Secretary Kenny MacAskill.
The strategy aims to ensure that only those charged with serious or violent crime are dealt with through the courts or children's hearing system.
Others accused of minor law-breaking will undergo a multi-agency screening process to determine what support is needed to address their behaviour and prevent re-offending.
Instead of formal prosecution, an immediate community service alternative can be sanctioned.
The strategy also calls for the greater use of "restorative justice", where the offender is encouraged to apologise for their crime.
It follows a successful pilot in Aberdeen which has shown significant cost savings and seen a reduction in youth crime of almost 10%.
The number of young people committing crimes has also gone down in Aberdeen by almost 16% in the past year, compared with 2009/10.
Dumfries and Galloway's Chief Constable Pat Shearer said it was an "honour" to have the launch in Dumfries.
He said he felt it was some "recognition of the excellent practice and real reductions in youth offending" in the region.
"Moving to a WSA in Dumfries and Galloway is a natural development of our Youth Justice Strategy," he said.
"We are committed to a multi-agency approach to reducing the offending and re-offending of our young people whilst ensuring that we address the needs and risks surrounding their behaviour."
Mr MacAskill said the Scottish government wanted young people "to have the best chances in life" and recognised that the "vast majority" were a credit to their communities.
He said that although crime levels were low, more needed to be done.
"We know that some young people fall through the cracks and we need to discourage delinquency before they follow the wrong path into a life of crime," he said.
"The WSA aims to nip early offending in the bud before it becomes a problem later.
"It tackles all youth offending - from low-level crime to the most serious and harmful offences."
He said early intervention was the "most effective way to prevent offending" and could make systems "leaner and more efficient to cut youth crime and create safer communities".