Co-op closes Annan and Lockerbie Somerfield sites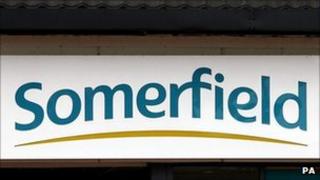 A Somerfield store and petrol station in the south of Scotland have shut with the loss of 35 jobs.
The Co-op, which owns the sites, outlined its plans for the Lockerbie and Annan facilities last month.
Between them they employed 39 full and part-time workers - four of whom have been redeployed by the company.
The Co-op has blamed the closures on "poor trading performance" and said they were no reflection on the "commitment and hard work" of staff.
The firm said the decision to shut the Lockerbie food store and petrol station in Annan had been taken with the "greatest reluctance".
It added that the Co-op's other sites, including a food store in Annan and petrol station in Lockerbie, were not affected and would continue trading.