Scottish Borders co-codamol tampering alert issued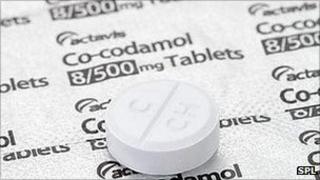 A health alert has been issued in the Borders over the misuse of co-codamol pain relief tablets.
It follows reports that they are being bought in large quantities with the intention of separating the ingredients for ingestion.
Health experts said people were trying to get a high by extracting the codeine from the tablets but could be risking a paracetamol overdose.
They warned that could be "potentially very serious, even fatal".
Joint public health director with NHS Borders and Scottish Borders Council Dr Eric Baijal said there could be "serious health risks" for anyone trying to separate the ingredients.
People might think they had extracted codeine from the tablets but could be inadvertently taking dangerous quantities of paracetamol.
"Co-codamol 8/500 tablets contain small quantities of codeine and larger doses of paracetamol," he said.
"Worryingly some people have been reported trying to separate the paracetamol and codeine by dissolving and filtering and then drinking this.
"By doing this you are placing yourself at risk of a paracetamol overdose, which is potentially very serious, even fatal.
"It can present very late, after irreparable damage has been done to the body."
He advised anyone who had tried to separate the ingredients to seek immediate medical attention and encourage anyone they knew who had attempted it to do the same.
"Please contact your GP even if you are feeling well," he added.