Milk Link announces Lockerbie cheddar cheese investment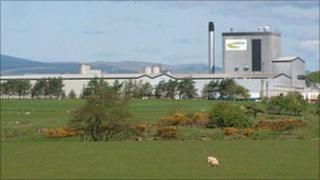 One of Britain's biggest cheese makers has announced a £20m investment in its south of Scotland plant.
Milk Link said the package would transform its Lockerbie Creamery into "one of the UK's leading cheddar production facilities".
It will allow the site to increase the amount it produces by about 50% to over 37,000 tonnes of cheese a year.
Chief executive Neil Kennedy said it would provide a "much needed boost to the regional economy".
"This significant investment demonstrates our commitment to Lockerbie and the Scottish dairy industry," he said.
Mr Kennedy said it would secure the long-term future of the creamery and would also "provide a strong platform for the expansion of dairy farming".
"Our decision to invest at Lockerbie reflects the growing demand for our quality British cheeses, the skill and dedication of our staff at Lockerbie and the potential of the south west Scotland milk field to supply us with increased milk volumes," he added.
Work at the site will start later this year and should be completed by autumn 2012.
It is the biggest capital investment undertaken by Milk Link since it was formed more than a decade ago.
Rural Affairs Secretary Richard Lochhead described it as "superb news for Lockerbie".
"As well as securing vital jobs, the creamery expansion will provide a boost for farmers as the amount of milk required increases to meet demand," he said.
"We have been working with Milk Link on this project, along with Scottish Enterprise, which will help to secure a long-term and vibrant future for the dairy industry in Scotland and in particular its heartland in the south west."
Jim Watson, company growth support director with Scottish Enterprise, said it was a "significant inward investment success".
"It will substantially boost the local south west economy and will allow the Lockerbie Creamery to achieve its ambitious growth plans, including increasing existing markets and targeting new overseas opportunities," he said.
The announcement has also been welcomed by farmers' representatives.
NFU Scotland milk committee chairman Kenneth Campbell said it was "fantastic news" for the dairy sector.
He also described it as a "shot in the arm" for the local economy with an extra 120 million litres of milk needed to produce the extra cheese.
"With one third of Scotland's dairy cows in Dumfries and Galloway and ample milk being produced in Ayrshire, Lanarkshire and the Borders, there is plenty of milk available for haulage to the plant," he said.
He added that he hoped there would be "more good news of this kind in the pipeline".