Galashiels bagpipe player defies Rugby World Cup ban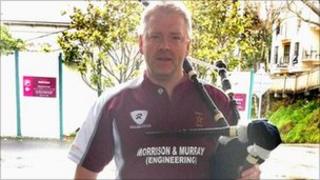 A Borders rugby fan has vowed to defy a World Cup bagpipe ban to try to help inspire Scotland to victory against England on Saturday.
Andrew Aitken, 40, of Galashiels, managed to smuggle the instrument into the match with Argentina.
Now he hopes to repeat the feat in the must-win tie for the Scots in New Zealand this weekend.
Tournament officials have banned the pipes from stadiums claiming they could distract Scotland's opponents.
However, Mr Aitken said he had already managed to sneak them into Sunday's clash with Argentina.
"I managed to dismantle the pipes into several parts and smuggle them in, with the help of two friends Colin Purves and Peter Easson," he said.
"During the game I assembled the pipes and began Scotland the Brave with both sets of fans joining in and enjoying the spectacle.
"Even at the end, a couple of security guards applauded my efforts."
He admitted that the timing of one of his interventions could have been better.
"When leading 12-6 I began a rousing rendition of Flower of Scotland which turned out to be a bad omen as Argentina quickly crossed our line for the match-winning try," he said.
"But on the way out of the ground, I piped the boys out and passed security guards who were wearing a wry smile.
"The World Cup officials have made a mistake and hopefully they will realise this before the English game."
He said that whatever happened he intended to take the pipes to that match as he believes the ban is unfair.
He said: "Imagine my disappointment to be told I would not be able to play at the games.
"I may not be the best player but it's a great feeling to play Flower of Scotland and have 50,000 fans sing along to raise the spirits of our boys on the pitch.
"Having practised for weeks before we left I had even memorised the New Zealand national anthem."
Scotland captain Alistair Kellock has also called for the ban to be lifted.
"I am a bit biased, I think it adds atmosphere," he said.
"I can understand why they have decided not to but if you are asking me if I would like to hear the bagpipes, I definitely would."