Dumfries and Galloway arts organisation ceases trading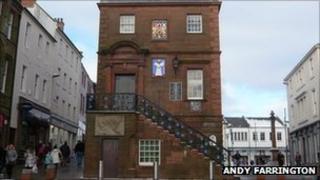 The directors of the Dumfries and Galloway arts organisation dgArts have announced it has ceased trading.
In a short statement, they confirmed that they had taken the decision due to its financial position.
It added they were in the process of starting the procedure to wind up the company which is based in Dumfries with an office in the town's Midsteeple.
The statement concluded that a meeting to appoint a liquidator would be arranged in the next few weeks.
The organisation - previously known as Dumfries and Galloway Arts Association - was responsible for a wide range of events and projects throughout the south west of Scotland.
It was set up to support arts development at all levels "from grassroots to national and international work and projects".
Earlier this year it reported "soaring ticket sales" for productions hosted throughout the region thanks to a new online ticketing system.
However, directors have now taken the decision that it can no longer continue its operations.