Mull of Galloway nature reserve's tourist value studied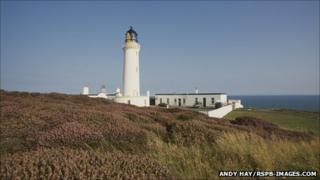 A new study claims an economic boost of more than £500,000-a-year comes from tourists visiting RSPB Scotland's Mull of Galloway nature reserve.
The report also shows that it supports more than a dozen jobs in the area.
RSPB Scotland area manager Andrew Bielinski said the study underlined the "worth of nature reserves to the local economy".
The UK-wide RSPB report looks at how conservation and nature tourism create jobs and attract spending to an area.
In 2009, RSPB Mull of Galloway had more than 20,000 visitors.
Surveys have shown that more than 70% of them said one of the main reasons they visited the area was to go to the reserve and see the seabirds.
Nature dividend
Mr Bielinski said: "With its busy seabird cities and stunning beauty, Mull of Galloway is a great place to enjoy nature.
"This report proves the worth of nature reserves to the local economy.
"Not only are these important places to conserve and protect our wildlife and environment, but they also bring tourism, money and jobs to the area, which is always welcome news to smaller rural economies."
Sharon Makepeace of VisitScotland added that it showed nature-based tourism was "one of the region's top selling points".
"We work closely with regional partners to promote wildlife and the natural habitat that can be found at the likes of RSPB Mull of Galloway which is a major draw for so many visitors to our region," she said.