NHS Borders ready for 'challenges ahead'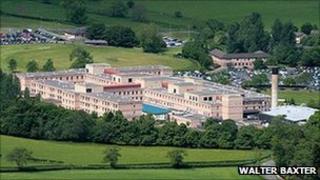 NHS Borders medical director Dr Ross Cameron has said services will evolve to meet the needs of patients despite the financial challenges being faced.
He said people had realised that the years of "relatively good funding" had come to an end.
He said it was a situation shared by every other public service.
Dr Cameron added that the only option was to "get on with the job" of making sure that everything at NHS Borders was "as efficient as possible".
"However, we have to do that without losing the focus on patient safety and quality and range of service," he said.
"That means a redesign - it means changes in the way we deliver service and, often, where we deliver service and how we deliver service.
"We will meet the challenge, it certainly isn't easy, that's not a word I think anyone in the health service is using.
"But we know what the challenge is and we know how we are going to face it."
Avoiding admissions
He said bed numbers would remain on a "downward path" but stressed that it was hard to say how quickly that process would occur.
However, he said medical advances meant people did not have to stay in hospital for as long as was previously necessary.
"We are actively seeking ways of avoiding admissions and facilitating early discharge by putting services into the community and anticipating where they'll be needed," he said.
"All of these things mean that if we can reduce the bed numbers then we can transfer those resources elsewhere."