Dumfries Infirmary legionella complete clean-up 'close'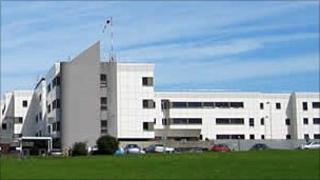 Health chiefs have said Dumfries Infirmary is "very close" to being completely clear of the legionella bug after costly clean-up action.
More than £250,000 has been spent on the problem since it was discovered nearly a year-and-a-half ago.
Protective filters have been installed and water supplies have been monitored on a monthly basis.
Chief Operating Officer Jeff Ace said the risk to patients had remained low throughout that time.
Traces of the bug were discovered in water supplies prompting NHS Dumfries and Galloway to call in specialist help.
Mr Ace said the fitting of protective filters on taps and shower heads meant it was "completely impossible" for the legionella to pass through.
"Whilst we have been able to do that, what I am keen to do and everyone working on this is keen to do is to make sure the bug is out of the water supply once and for all," he said.
"That is where we have been incurring a lot of cost but I am absolutely adamant we need to eradicate this thing."
He said that work was "well progressed" and there were "very low levels" being found in readings.
"We think we are very close to declaring a facility that is completely free of the bug," he said.