Borders anti-depressant use doubles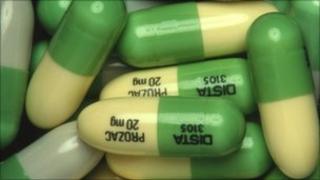 A health expert has said money worries and a decrease in the stigma attached to mental illness have seen anti-depressant use double in the Borders.
In 2001/2 53,000 doses of various drugs were dispensed by hospitals and pharmacies.
Last year that number had increased to almost 111,000 doses.
The head of NHS Borders Mental Health Board, Dr Cliff Sharp, said two key factors had contributed to the increase.
"I think firstly, in the last 10 years, the stigma that surrounded clinical depressions has decreased," he said.
"More and more people are willing to talk about it and more and more people are willing to go to their GPs when they feel down.
"And then it is the GP's job to separate unhappiness, and people that are going through temporary spells of unhappiness, from people with serious clinical depressions."
The number of people taking anti-depressants has doubled too, according to the Scottish government statistics.
Potential killer
A total of 111 out of every 1,000 Borderers regularly took the pills last year - compared with 54 a decade ago.
Dr Sharp said that as more people came forward, more would be identified with clinical depression and need treatment.
"It is a serious illness," he added. "It's a killer potentially."
He said he believed the recent economic downturn had also played a part.
"I think as the economy has struggled in the last few years, I think there is also a likelihood that more people become very stressed by that," he said.
"I think as more people suffer more stress I think then some people tip into a clinical depression.
"It is not uncommon for that then to present to GPs who will then try to treat it."