Dumfries medical centre work under way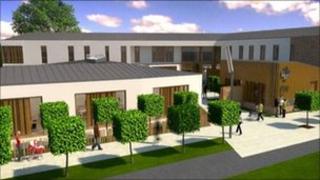 Work has officially started on a new £5m medical centre serving the north west of Dumfries.
The Lochfield Road facility will house two GP surgeries as well as acting as a new base for the area's drug and alcohol advisory services.
It is hoped the centre can be completed by late next year.
NHS Dumfries and Galloway chairman Mike Keggans said the start of work on site was a "major milestone" for an "exciting project".
"The primary care centre is set to be a real benefit to the north west Dumfries area and our patients will be able to access more vital services locally," he said.