Dumfries rape trial hears woman's simulated sex claim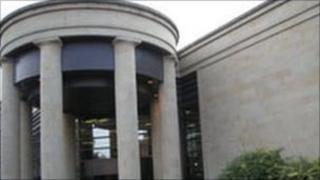 A woman has told a jury that a man simulated sex with her before raping her at his home near Dumfries.
The 42-year-old was giving evidence at the trial of James Seaton, 65, who denies raping her at his home at Main Road in Collin in November 2009.
In evidence the woman, who cannot be named for legal reasons, told how she went to his house at about 23:00.
She said she ended up in his bedroom where he undressed her, simulated sex and raped her.
The woman told the trial at the High Court in Glasgow she felt "so dirty" after the incident.
Told daughter
She said that afterwards, as she sat in Mr Seaton's living room, he made her a cup of coffee and chatted to her.
She added: "It wasn't like a real situation.
"He said he would leave me his house and said his family couldn't argue with that.
"It was as if he was trying to send the message that what he did was normal."
Advocate depute Bruce Erroch, prosecuting, asked her what had happened next and she said she arrived home at about 01:00 the following morning.
"I went upstairs to bed and cried myself to sleep," she said.
The woman told the jury that she told her daughter she had been raped and her daughter made her go to the police.
Denies charges
The woman denied that she had consented to sex with Mr Seaton and added: "I would never sleep with that man consensually."
He is accused of pushing the woman into a bedroom, removing her clothing, forcing her to perform a sex act, simulating sex with her and raping her.
He denies the charges against him.
Defence QC Ronnie Watson asked the woman if she had any reason to tell lies about Mr Seaton and she said no.
Under cross-examination she admitted that she had phoned him five or six times that night on her mobile phone before going to see him.
The woman is expected to continue giving her evidence on Wednesday.
The trial before Lord Stewart continues.