Peebles business improvement bid rejected by traders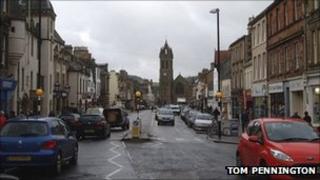 An attempt to establish a Business Improvement District (BID) in a Borders town has been voted down by traders.
The plan would have seen Peebles firms within a designated area pay a set levy towards improving their surroundings and encouraging economic growth.
However, 59 out of the 106 businesses in the town voted against the proposal.
A second method of counting, using total rateable value, backed the scheme but both outcomes had to be in favour for the plan to proceed.
Local action group Positively Peebles had developed the plan over the past two years to bring it to the voting stage.
It would have seen each business involved pay a BID levy which would then have been used to try to boost the area's economy.
A BID can last for no more than five years and then has to either be dissolved or seek a new mandate.
The scheme narrowly failed to find favour with 55% of traders voting against it.
A count using rateable values gathered about 58% support for the plans, meaning more of the town's bigger businesses backed the project.
The voting system required a majority in both numerical votes cast and rateable value of votes cast in order to be taken forward.