Dumfries and Galloway health talks attendance defended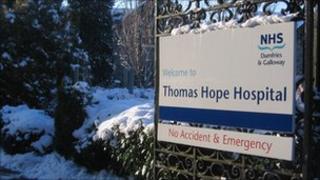 A "public engagement programme" about health services which attracted an average of less than nine people per session has been defended.
NHS Dumfries and Galloway board member Alf Hannay insisted the meetings had a valuable role to play.
The sessions aimed to give people direct access to health officials and let them find out more about services.
Eight events were held in the region, with attendances ranging from 25 in Annan to just one person in Lockerbie.
Mr Hannay said it was wrong to look simply at the number of people who turned out for each session.
"It is not about the numbers or the figures, it is about what people can take away and spread into their communities," he said.
"It is also about information collection for them."
He said there was a wide range of subjects covered which people attending could then share with their families and the rest of the community.