Ramorum tree disease discovered near Newton Stewart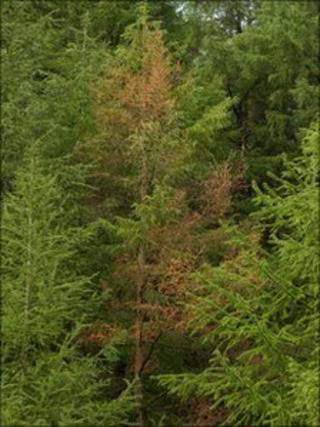 An outbreak of a disease which can kill larch trees has been confirmed in private woodlands near Newton Stewart.
The fungus-like ramorum disease was discovered after a recent aerial survey of the west of Scotland.
Forestry Commission Scotland's tree health adviser Hugh Clayden said it was "serious concern" to the sector.
The outbreak is the third on Japanese larch in Scotland, the first two being found on the Craignish peninsula and on the Isle of Mull.
Once a tree is infected, its needles wilt and turn grey or blackish before dying.
Tree death can follow within a matter of months.
The only way to contain the disease is to fell the area and surrounding trees and host plants.
Mr Clayden said: "The area affected currently appears to be some 15 to 20 hectares in size and we are working with the land managers to confirm the extent of the infections and the measures required to deal with them.
"It is unclear at this stage how the disease arrived here but our site investigations may help provide the necessary clues.
"The spread of the disease is a serious concern to those in the forestry sector and we need to continue to monitor the situation very closely."
He asked woodland owners to "remain vigilant" and report any suspected signs of the disease.
Phytophthora ramorum was first identified in Great Britain in 2002 and has since affected many plants.
It began to affect Japanese larch, a commercial conifer, in 2009 in the south west of England and was first found on a small area of larch trees on the Craignish peninsula in late 2010 and then on Mull in summer 2011.