Scottish Water completes £34.5m Dumfries upgrades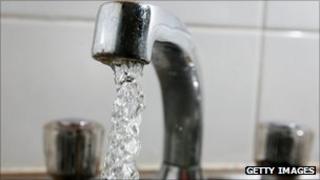 Scottish Water has completed upgrade works worth about £34.5m at three waste water sites in Dumfries and Castle Douglas.
The company said the investment would protect the natural environment in the River Nith and River Dee.
The work also means more new homes and businesses will be able to connect to the waste water network.
A further £5m programme of improvements to Dalbeattie treatment works is due to begin soon.
Troqueer treatment works in the south west of Dumfries was the focus of a £14m investment.
Its capacity has been increased from 30,000 to serve about 50,000 people in the future.
Sludge at the site - the dry residual product that remains once waste water has been treated - will now be treated in a state of the art system and recycled as a fertiliser and soil improver.
At Scottish Water's Dalscone facility £9m has been spent on enhancing protection for the River Nith while providing extra capacity for new homes and businesses.
A £11.5m project at Castle Douglas has reduced odours from the waste water treatment works and expanded capacity.
Simon Hunter, waste water asset planner for Scottish Water, said: "As popular fishing destinations, the Nith and the Dee play an important part for tourists and locals while supporting the local economy.
"This makes the provision of reliable and thorough waste water treatment on these rivers a crucial priority for our local waste water team at Scottish Water.
"We also have an important part to play in enabling communities in Dumfries and Galloway to grow and thrive, so the increased capacity at these facilities is key to driving the local economy by attracting developers and businesses to the area."