Galashiels base for new Borders emergency vehicle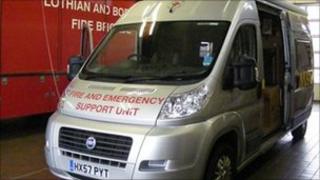 A special vehicle, provided and crewed by the Red Cross, is being launched in the Scottish Borders.
It is aimed at offering support and shelter following a fire or other emergency.
The Fire and Emergency Support Service (FESS) vehicle has been described by some as a "glorified camper van".
However, it provides important shelter and support to those hit by flooding, involved in an accident or affected by a major fire.
The new Borders vehicle is operated by the Red Cross and will be available at the scene of major incidents.
The first FESS vehicle was deployed in Edinburgh four years ago and has been mobilised no fewer than 39 times this year.
The specially-adapted Borders vehicle will be based at Galashiels Fire Station but, because of its central location, will be available for use across the region.
The Red Cross volunteers who staff the vehicle can offer everything from emotional support and advice, to practical help like the use of a phone, or just a welcome cup of tea.
The presence of the FESS and its crew allows fire and rescue personnel and other emergency services to concentrate on dealing with an immediate incident.
The Red Cross crew can provide support required to people who may well be in a state of shock or trauma following a fire, accident or flood.