Juanita Wilson honoured for Mossburn animal saving work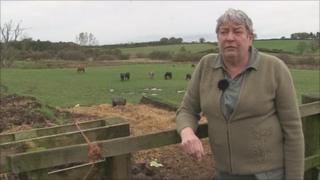 The owner of a south of Scotland sanctuary is heading to the House of Lords to receive a prestigious award for her services to animals.
Juanita Wilson, of Mossburn Community Farm, near Lochmaben, has saved thousands of animals over the years.
However, she made the headlines a decade ago when she took on the government to save her sheep and goats from the foot-and-mouth cull.
Her work is now being recognised by the International Fund for Animal Welfare.
The centre was originally set up as an equine charity in 1987 after Ms Wilson took in her first sick horse, Merlin, and nursed it back to health.
Now on a much larger site, it cares for abused, neglected and unwanted animals and currently provides sanctuary to horses, ponies, pigs, ferrets, sheep, cattle, emus, goats, guinea pigs, rabbits and a turkey.
About 30 new animals are taken in each year and are either rehomed or given a permanent home there, apart from horses, which are fostered out to other carers.
The centre currently has 170 horses in different placements, as well as 12 which are permanent residents at the farm, and are used for equine-assisted psychotherapy and learning.
Robbie Marsland, UK director of IFAW, said: "We are very pleased to be able to reward Juanita's amazing dedication to helping all kinds of animals over so many years and wanted to recognise her outstanding contribution to animal welfare with our community award."
In 2001, Ms Wilson successfully fought off repeated attempts to destroy all the centre's animals during that year's foot-and-mouth outbreak.
She ultimately secured a legal ruling which prevented their slaughter.
Ms Wilson said the aim of her work now was to try to make a difference to the way people think and feel about animals.
She said: "I am bewildered but happy to be receiving an award that I sincerely hope will bring positive benefits to the centre I manage.
"Although small charities like mine only scratch the surface in helping animals, if enough of us scratch away we do make a difference."
Ms Wilson will receive her award at IFAW's Animal Action Awards ceremony, hosted by Baroness Gale, at the House of Lords.