Annan British Pipe Band Championships bring in revenue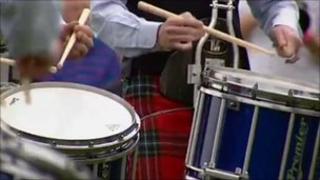 An economic study has estimated the British Pipe Band Championships drew more than £200,000 into the Dumfries and Galloway economy.
The event was held in Annan in June in what was the second year of a three-year deal.
Figures from the council estimated an economic impact of £226,229 - an increase of about 50% on 2010.
Councillor Ian Carruthers described it as a "very worthwhile achievement" in a rural economy.
The British Pipe Band Championships are held in partnership between Dumfries and Galloway Council and the Royal Scottish Pipe Band Association (RSPBA) - the world governing body for piping.
Some 126 pipe bands took part in the 2011 event and 3,600 spectators attended.
Mr Carruthers said: "The council has successfully introduced this international event into our regional events calendar and delivered it in style.
"Council investment of £43,000 has created an economic impact of £226,229 which in a rural economy such as ours is a very worthwhile achievement.
"Our partnership with the RSPBA is in excellent health and it is terrific to welcome the world of piping to Annan each June."
'Run of success'
Ian Embelton, the chief executive of the RSPBA, said he welcomed the "positive feedback" and the "substantial economic windfall" for the area.
"I am confident that the 2012 British Pipe Band Championships will continue this run of success," he added.
The study, commissioned by the council and carried out by consultants Ekos, showed that more than half of those attending the event came from outside Dumfries and Galloway.
The majority of those were from other parts of Scotland but there was also interest from England, Northern Ireland and further afield.
Next year is the last of a three-year agreement to hold the event in Annan.
The council has yet to decide whether to bid for future editions.