Dumfries and Galloway house priority for army personnel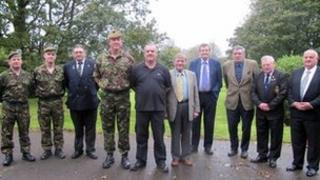 Ex-service men and women are being given a "priority route" to affordable homes in south west Scotland.
Dumfries and Galloway Housing Partnership (DGHP) has decided to set aside a percentage of its annual lets for armed forces personnel.
Chairman Billy Lockhart said it could make a "real difference" to people "struggling to find a home".
He said DGHP had gone "one step further" than some organisations which offered extra points on waiting lists.
"This will undoubtedly help many by giving them a much easier and clearer route into housing," he said.
"These people previously had to come through the homeless route to access housing.
"With nearly 5,000 applicants on our waiting lists, the armed forces personnel had to compete with others for accommodation and they could have to wait a long time.
"This way, we are directly offering them a number of our annual lets."
Dumfries and Galloway Council's armed forces "champion" Archie Dryburgh helped to develop the project.
'Difficulties faced'
He said: "This initiative is one which will be welcomed by many people.
"Being an ex-serviceman myself I know only too well the difficulties faced when you leave the forces and are looking for somewhere to live.
"Most ex-service personnel end up either living with friends or family or are placed in temporary accommodation and can wait for long periods before they are offered a home."
Jayne Moore, DGHP director of housing services, said it could make a real difference to the housing process.
"The specific allocation of a percentage of our lets to the armed forces will, in most cases, eliminate the need for these personnel to apply to the council as homeless before they could be referred to us," she said.
"We are already looking to identify anyone on our current waiting list who could benefit from this change and we look forward to handing over the keys to their home to them in the not-so-distant future."