Dumfries retail park restriction targeted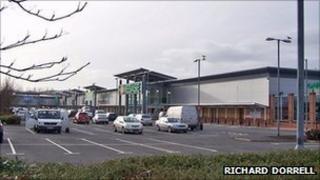 The owners of a retail park on the outskirts of Dumfries are preparing to launch a fresh bid to lift trading restrictions on part of the complex.
British Land said conditions of the original planning consent at Cuckoo Bridge had deterred shops from opening and seen units left vacant.
The sale of "non-bulky goods" like clothing and footwear is restricted.
A previous attempt to lift the condition failed due to fears over the impact on the town centre.
British Land has claimed that, if granted a partial lifting of conditions, it could attract new stores into three vacant units which would create an estimated 35 full and part-time jobs.
The group - which operates retail malls and parks across the UK - last applied for a relaxation of the trading restrictions in 2006 having lined up the fashion chain Next as potential tenants.
Less demand
However, it was unable to win over councillors who feared for the viability of shops in the town centre.
British Land said the retail sector had now changed with much less demand for bulky goods.
It insisted that without any alteration to the original planning consent, the vacant units were likely to remain empty for the foreseeable future.
The group said the restrictions also denied the council a rateable income.
It is now preparing a fresh case to persuade the local authority to amend the original conditions, and will hold a public exhibition and consultation later this week before submitting a formal planning application.