Scottish Borders health goals highlighted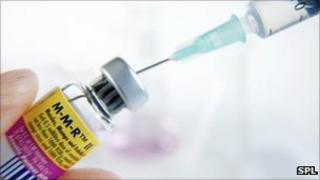 A report to councillors has highlighted the progress being made and the work which needs to be done in improving health in the Scottish Borders.
The annual study by public health director Dr Eric Baijal examines five areas regarded as most "disadvantaged".
They are Bannerfield in Selkirk, Burnfoot in Hawick, Eyemouth, Langlee in Galashiels and Walkerburn.
It found considerable variations in statistics across a wide range of health indicators.
Burnfoot has the lowest MMR jab uptake at 82% compared with 100% in the "benchmark" town of Lauder.
Breastfeeding rates stand at just 19% in Burnfoot, with 50% in Walkerburn and 61% in Lauder.
Success stories highlighted in the report include the Healthy Living Network which has set up a number of initiatives to improve health and well-being.
Schools obesity
These include lunch clubs for older people, school breakfast clubs and even a community orchard in one area.
Dr Baijal said that even though the communities had a more difficult life experience than other parts of the Borders, they had enthusiastically embraced initiatives they saw as meeting their needs.
However, he said there was still a requirement to focus on the misuse of alcohol and drugs.
Among his recommendations are targeting any "preventative spend" at poverty and the health of children.
He would also like to see an emphasis on tackling obesity in schools and a smoking cessation programme aimed at pregnant women.