Dumfries patient death concerns tackled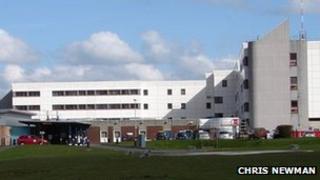 A health board has said concerns over the case of a patient who took her life after coming off anti-depressants before surgery have been tackled.
NHS Dumfries and Galloway has admitted more could have been done to prevent the death and apologised to the family.
The case was investigated by the Scottish Public Services Ombudsman who upheld three of four complaints.
NHS chief executive John Burns said steps had been taken to ensure there were no gaps in patient care.
According the ombudsman's report, the woman had been taking anti-depressants for 30 years and was leading a normal life.
However, she stopped taking her medication prior to an operation after being made aware of the risks of the drug reacting badly with anaesthesia.
She subsequently underwent keyhole surgery at Dumfries Infirmary in April last year but, because of complications, was not immediately put back on her medication.
Her mental health deteriorated and following a third operation she began to self-harm.
Some months later she took her own life.
Health officials said they now recognised that the patient's life had "changed significantly" when she stopped taking her anti-depressants and had this been picked up on "the outcome may have been different".
The ombudsman ruled that the patient's medication had been stopped without reasonable psychiatric consultation and that she had been sent home after her first operation without clear after-care instructions, which led to further complications.
It was also concluded that the patient had unreasonably been able to acquire a means to self-harm at both the Dumfries Infirmary and the Crichton Hospital.
NHS Dumfries and Galloway said it had apologised to the woman's family and had acted on the all the recommendations made to address the failings highlighted by the case.
Mr Burns said action would now ensure complete patient care when there was a cross-over between acute and psychiatric services.
"I am very confident that the actions have been addressed by those delivering our service," he said.
"But it is not just about having an action plan it is about what comes from that and reviewing it to make sure that we continue to do what we have set out very clearly both to the ombudsman and, of course, to the relatives."