Dumfries hospital doctors hand wash record highlighted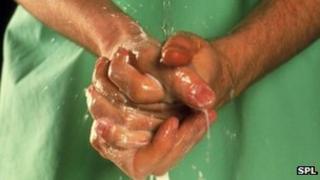 A health official has admitted he is embarrassed by a survey which showed doctors at Dumfries Infirmary had the worst hand hygiene record among staff.
They showed a compliance rate of hand washing of 86% compared with 97% for nurses and 100% for other health professionals.
NHS Dumfries and Galloway medical director Dr Angus Cameron said the results were disappointing.
However, he stressed overall infection rates at the hospital remained low.
"The important thing, I guess, to provide reassurance is that what really matters is the outcome to patients," he said.
"We know, for example, that our surgical site infection rate is actually very, very good and it has come down considerably so we are doing well there."
Dr Cameron said there remained a "slight problem" with Clostridium difficile but added that checks showed it was not being transferred from patient to patient.
He said the results of the hygiene survey could have been better but that the bigger picture showed that infection issues were being tackled.
"It is embarrassing, that figure wasn't as high as I would like it to be," he admitted.
"But on the other hand, what counts is the outcomes and they are looking very good in Dumfries and Galloway."