Council clashes on Dumfries car parking charges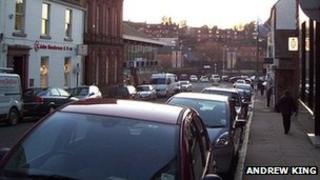 A fresh row has broken out over a proposal to introduce car parking charges in Dumfries town centre.
It was one of a series of options tabled at a meeting of the planning, housing and environment committee to offset council budget cuts.
A motion by Labour group councillors to drop the possibility of parking charges altogether was ruled "incompetent".
Committee chairman Roger Grant said the council was looking at the business case but not committing to the move.
Opposition Labour councillor Colin Smyth, who tabled the motion to drop the charges, has vowed to fight on.
It is estimated the scheme would cost about £700,000 to introduce.
However, once it is in place, it could net Dumfries and Galloway Council about £1.9m a year, with drivers having to pay about 90p an hour to park.
Mr Smyth claimed it was "little more than an abuse of power" that councillors were not allowed to debate his motion to drop any plans for charges.
He said the proposals would be unpopular with shoppers and businesses alike.
'Feeling the pinch'
"The more we find out about these plans, the worse it gets and none of this information was included in this report," he said.
"At a time when local town centre shops are struggling and families are feeling the pinch, it would be madness for the council to penalise people for supporting our town centres with parking charges.
"That's why I am committed to stepping up the campaign against this unfair parking tax."
Mr Grant said the purpose of the meeting was to prioritise budget options and members had voted to put the car parking proposal to the bottom of the list while a full business assessment was carried out.
He claimed the town had missed out on major investment in the past because it did not have such a scheme in place.
"We want to look at the business case to see if things have changed and there are other issues coming forward," he said.
"We are merely looking at the business case - we are not saying that we are going to do it yet."