Peebles pupil selects site for fairy tale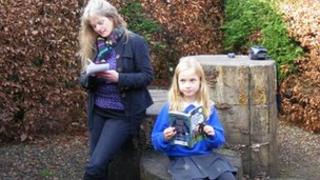 A primary school pupil from Peebles has won a competition to suggest a real-life location to be used in a new book by award-winning Scottish children's author Lari Don.
Emily Wright, who is in Primary 6 at Priorsford School in Peebles, suggested nearby Traquair House, and its maze, as an ideal location.
The Edinburgh-based author launched the competition in June, at the same time as the third book in her First Aid for Fairies fantasy series, Storm Singing and Other Tangled Tasks, was published.
Children were invited to suggest the perfect real-life Scottish location to be used in the fourth, and final, book of the First Aid for Fairies series.
"So far I've used locations I already knew," the author explained.
"But I thought that there must be bits of the country that I didn't know which were equally story-shaped.
"So that's why we ran this competition for readers to suggest places they knew."
Ms Don admits her competition could have painted her into a creative corner.
"We might have had six entries all suggesting a supermarket car park or somewhere else really boring," she said.
Instead Traquair House, which has a history of magic and mystery, will feature in next year's final instalment.
As well as having her location used in the forthcoming book, Emily also received signed copies of the three books in the series so far and her class will have a special author visit from Lari Don before Christmas.
Nearly 250 children from across Scotland entered the competition suggesting a variety of settings.
Emily, who has already read two of the three First Aid for Fairies books, said she believed the Traquair Maze would be an ideal spot in which to encounter a Minotaur.