Castle Douglas Indian restaurateur gets repayment order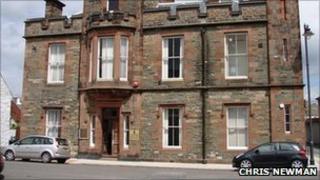 A restaurant owner who employed illegal immigrants has been ordered to repay more than £28,000 under the Proceeds of Crime Act.
The order was made on Helalul Islam, 48, who runs the Merrick Hotel in Castle Douglas.
He was was jailed for 16 months in January for providing accommodation, food and money to non-European citizens but freed by appeal judges in April.
At Kirkcudbright Sheriff Court he was given six months to repay £28,730.
The order has been welcomed by the Crown Office and Procurator Fiscal Service (COPFS).
Lindsey Miller, who heads its Serious and Organised Crime Division, said: "Employing people who have no legal right to be in this country is a criminal offence, and the Crown is therefore entitled to target through the proceeds of crime legislation, any money gained by this enterprise.
"The Crown will seek to deprive anyone who chooses to involve themselves in criminal activities of the assets they have gained from their criminal activities and lifestyles.
"COPFS will continue to work with all areas of law enforcement to disrupt the activities of criminals to prevent them re-investing their profits and continuing with their illegal enterprises."