Scotland-Northern Ireland crossing security talks held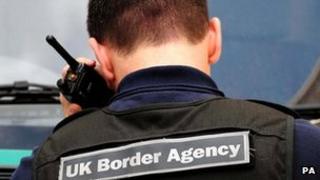 Talks have been held at a new ferry port near Cairnryan to discuss security on sea crossings between Scotland and Northern Ireland.
Scottish Justice Secretary Kenny MacAskill and Northern Ireland Justice Minister David Ford took part.
Representatives of police from both countries and the UK Border Agency were also involved in the talks.
Last year the UKBA announced it was cutting the funding for three officers based at Stranraer.
Stena Line has just moved to the site just north of Cairnryan.
The ministers were able to inspect the company's new facilities, which are now based closer to the mouth of Loch Ryan.
Mr MacAskill said he was "heartened" that all the groups involved would work together to keep the situation under review.
Mr Ford said he believed the work being done by all agencies could ensure such ports remained an "unwelcoming place for criminals".
Dumfries and Galloway's Labour MP Russell Brown welcomed the meeting but accused both the UK and Scottish governments of failing to fully appreciate the security threat in the area by reducing officer numbers.
He said the justice secretary should be "ashamed to show his face" in the region.
However, Mr MacAskill promised to consider a bid from Dumfries and Galloway Constabulary for extra police officers to cover the port.
He said: "Today I sought assurances that ports in Scotland and Northern Ireland will continue to be policed robustly and arrangements kept under review.
"And I welcome the UKBA's commitment to support intelligence-led operations on this side of the water.
"The Scottish government, Northern Ireland Assembly, Dumfries and Galloway Constabulary and the PSNI will work together with the UKBA to ensure our security is not compromised."