Stranraer Football Club in fan plea after abuse incident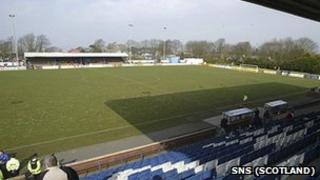 Stranraer Football Club has issued an open letter to fans urging them to help weed out troublemakers from its Stair Park ground.
It follows an incident in which visiting supporters suffered verbal abuse and threats outside the ground.
The letter is signed jointly by the club's committee and Dumfries and Galloway Constabulary.
It urges fans to treat visiting supporters with respect and report any incidents of abuse.
The letter comes after events at a home game against Queens Park.
Visiting fans were challenged to fight and forced to endure a torrent of abuse as they made their way to the parking area behind the old stand.
Two Stranraer fans were subsequently issued with banning orders and extra post-match stewarding has now been introduced.
The club said that while such incidents at Stair Park were rare, even once was too often.
It said any racist, sectarian, sexual or bigoted harassment - whether physical or verbal - would not be tolerated.