Carlisle cashiers praised for helping catch drugs gang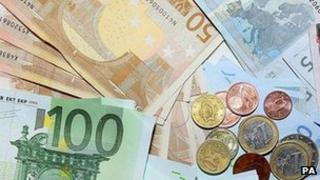 Two cashiers who spotted counterfeit currency which exposed a £40m drugs operation have been honoured by police.
Five men from across Scotland were jailed in October for a total of 43 years for their roles in smuggling cocaine between Spain and the UK.
Two women working at a Bureau De Change in Carlisle reported the transaction that led to a police operation which caught the gang.
Dumfries and Galloway Constabulary have commended the pair for their actions.
They were among a large number of police and members of the public being recognised at the force's annual awards on Thursday night.
A spokesman said that without their "alertness and professionalism" the gang - from Annan, Gretna, Helensburgh and Clydebank - might never have been discovered.
The duo were working in the Carlisle office when a man came in and asked to exchange a "large quantity of cash" into Euros.
One of them noticed some of the money was counterfeit and they contacted store security and Cumbria Police.
As a result of further inquiries, cannabis with a street value of about £36,000 was found and the man, from Annan, was interviewed by Dumfries and Galloway officers.
He told them he was part of a large-scale drug trafficking and money laundering operation bringing cocaine into the UK from Spain.
It led to a police operation which ended with five men receiving sentences totalling more than 40 years at the High Court in Edinburgh.
"Prior to the initial arrest and interview of the male in Carlisle there was no intelligence or information held by the police or any partner agency with regard to the criminality involved," said a police spokesman.
He added that without the actions of the two cashiers it was possible the operation may not have been discovered "for some time, if at all".