Dumfries pedestrian zone removal ruled out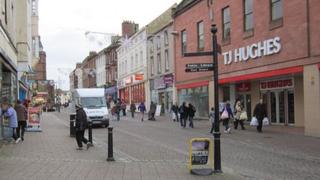 A report on measures to help regenerate Dumfries town centre has ruled out the possibility of removing its pedestrian zone to let traffic return.
Allowing vehicles back onto the High Street was one measure being considered to help boost the local economy.
However, it was found there was not enough space to allow "safe and effective" bus access.
A better "gateway" to the High Street from the bus stance at Burns Statue is being proposed instead.
The report to Dumfries and Galloway Council's Nithsdale Area Committee looks at a range of measures to improve the "vitality and viability" of the town.
One area examined was the "de-pedestrianisation" of the High Street - reversing work carried out in the 1980s.
Pedestrian and traffic flows were studied and the findings delivered in the council report.
It concluded there was "insufficient space" to let buses back into the area and that any such moves would be to the detriment of the High Street as a "retail and service centre" for the town.
Instead, the report by Head of Economic Development Ewan Green recommends an improved civic space around the current bus stop at Burns Statue.
He said it would allow the area to serve as a better "gateway" to the High Street.
"Burns Statue is an internationally-recognised feature associated with the town and has a highly important role to play within the 'brand' for Dumfries," he said.
The report also takes a wider look at other ways to maximise the "economic performance" of the town centre.
They include improvements to the Whitesands and Dock Park, encouraging more people to live in the area and increasing its housing stock.
Another key project identified is an upgrade of English Street and Queen Street which lead to the town centre.
It is hoped it can "improve the connectivity" with leisure sites like the DG One complex, Odeon cinema and Theatre Royal.